Dear readers, the Think Tank Team has contacted some veteran teachers of children and asked them for rules of thumb or bits of advice for teaching children. Enjoy!
In our class of students with special needs, we have one little boy who regularly tries to run out of the classroom. The other students figured out that he loves hugs, and so when he tries to make a run for the door, they create a "hug chain" where they stretch out their arms and all take turns to hug him and encourage him back to his spot in the room.
– Jamie Matthews teaches a class of children with diverse needs in an Australian primary school.
We can bring our students into a world they have never been in safely and foster curiosity that will last a lifetime. And we can do all of this for the price of a book. In this episode, we took a trip to a little boy's house and learned that not all things are as they seem. Not only was this a lesson with moral implications, but it was also fun to see someone else's house.
– Dr. Grant Osterman runs a private international school in Okinawa and is the coordinator of the JALT Teaching Younger Learners SIG.
Base a 3-4 lesson plan around a popular children's book. The book has the effect of putting the vocabulary and activities in context.
For example, after reading The Hungry Caterpillar, leave it in view and use it as the base for follow-up lessons, such as: "days of the week," (ball drills, board games, or matching/translation activities); learning "fruit" (drawing pictures, card games such as Slap or Pelmanism-Concentration); practicing the verb "to eat" (a writing worksheet along with common nouns to show how it is used in a basic sentence). Start of each lesson with a review of the book to establish context. These activities become meaningful because they are connected.
– Chris Ziffo works as a lecturer at Nagoya University of Foreign Studies and has worked extensively with young learners in Japan's public schools.
What I know about teaching language, I learned from all the young learners I have shared time with. They do not lecture me, yet they teach me what to do by being honest and throwing puzzles at me. Unlike my university students, children aged from 3 to 6 or 7, do not tolerate any boredom or laziness in their teacher. They brutally show whether or not the activities or books I use stimulate them. In addition, older students, 5th graders and above, show me how complex their minds really are and refuse any activities that may be beneath their intellectual capabilities. Facilitating an empowering learning environment for young learners requires wholehearted attention to their current mental and physical conditions. Their facial expressions and body language in class, as well as their needs and interests must always be taken into account. Therefore, designing lessons that fit the diverse personas and learning styles in young learners is a far greater challenge than designing lessons for students in higher education. It is also more joyful.
Oddly, without the brutal, yet inspiring, teacher training opportunities numerous children have provided me over nearly three decades of teaching them, I would feel lost in the classrooms at the universities where I now work. 
Honour children's stories
As educators, we need to deal with different kinds of complex behaviours of children—from extrovert to introvert, from aggressive to submissive, from attention-deficit to reluctant! What helps us deal with these behaviours with more empathy is to understand that: A child's behaviour is not always what it seems to be! The behaviour that's visible might be a manifestation of the stories that are suppressed inside the child. It's important to honour those individual stories that children carry with them into the space. It may even lead to positive behavior modification. Please refer to the Iceberg Model originated by Sigmund Freud for more details.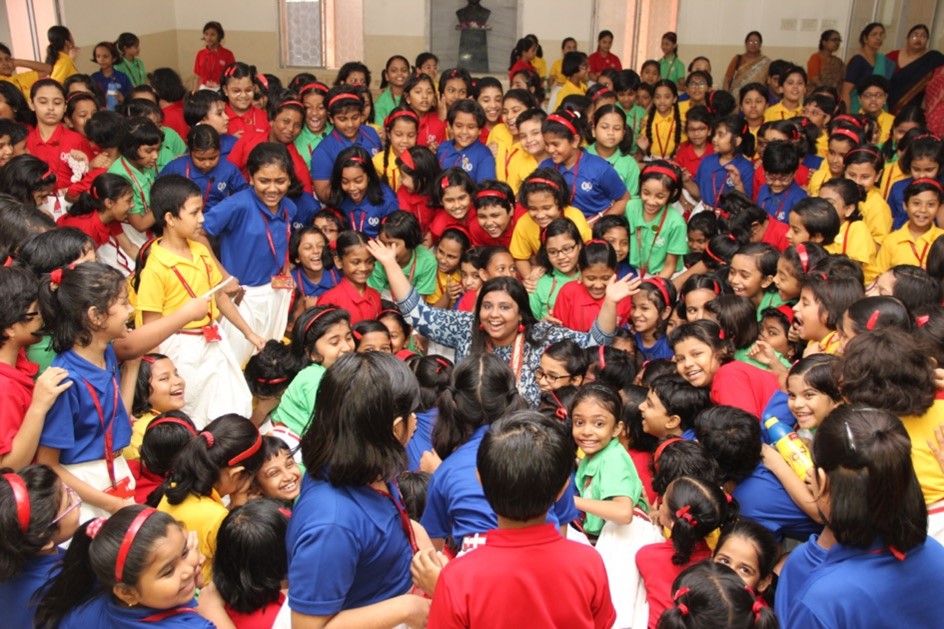 – Priyanka Chatterjee aka "Golpodidi" is an International Story Consultant, award-winning Storyteller and Educator from Kolkata, India who believes that: "The power to change our lives lies in changing our stories."
Back before English was added to the national curriculum for elementary schools, I used to teach English to Japanese country kids, aged 5-10. They were restless, nervous, wondering what in the world they were studying English for. (The real reason, in many cases, was that their urban, world-travelled mother married a farmer, and she didn't want her kids to end up where she did.) Sitting in a Saturday class never fit them. But there was one thing that did: taking them outside and doing TPR (Total Physical Response): "Find something with the letter 'A'" (on seeing that letter on a car license plate). Run to it!" "Take 3 steps, jump 5 times, and take 3 more steps." For these kids needing to run around after a week of school, it always worked like a charm! And they learned!
– Curtis Kelly co-owned a countryside school for children and has set up special projects for various public elementary schools.
I have noticed an increasing emphasis on STEM education for children. This is an essential adaptation for our changing world, especially as we have moved to implement distance learning. Even kindergartens are introducing simple coding lessons in the format of puzzle games. The students are given a character and an objective, and it's up to them to choose the right code that will move the character to their endpoint. The students don't see it as learning a computer language; they see it as entertainment. I am a bit jealous that I never had these opportunities in school.
– Brianna Cozenza specializes in childhood literacy and currently works as a lecturer at Nagoya University of Foreign Studies.
– Barb Kelly is a child psychologist in Australia, experienced in providing psychological therapy to children and young people with developmental concerns and complex mental health issues.
Try not to fall into the pattern of allowing portions of the lesson to just fizzle away as you move to the next teaching point. Remember, children pick up on emotional cues from the teacher—so if you create an exciting ending, your students will tend to be excited too, and retention rates will be higher. However, if you let a learning point just fade away, well, what a waste that would be! The students might feel that, perhaps, it wasn't important.
What can closure look like? Example A: Have a lively Q&A review combined with a climactic "Yay!" after the demonstration of learning; it is a celebration of learning. Example B: Conduct performance of understanding sessions for validation. Ask students to think of a way to perform their new learning/understanding for the other students—and have them do it. This mixture of autonomy, the pressure of performing, and the genuine validation that comes from it is often a golden combination that not only raises retention rates, but also brings on deeper understanding and appreciation for the learned content. 
– Robert S. Murphy: Teaching children since the 1990s; conducts research in cognitive development.