(Editors: We asked some teachers around us about why they like teaching. Here are their six stories.)
The magic of care and confidence
It all started with a brilliant idea my history teacher had when I was 12. Mr. M., being observant and caring, saw that I was struggling in my new school as I was bullied a lot. Every single day I had to run back home after school to avoid the trouble awaiting me. I was the top student and good at sports, but the bullies did not like me because I made them look bad by my perfect grades. One day Mr. M. asked me to tutor some struggling students, among whom were some of my bullies, after his lesson. Everything changed from that day. I was not afraid of them anymore and they did not want to hurt me. We ended up being friends and worked as a team. Their scores improved after a while and I felt safe in their company. They just needed a little confidence in themselves and someone to tell them that they can do a lot more than being bullies. The joy in their eyes after they got a passing grade for the first time and what their leader said made me realize that I would really love to see more of this magic of care and confidence. He said with a smile: "So, we did pretty well as your first students, huh?"
Mohammad Khari is an English lecturer at Ozyegin University, Istanbul. He holds a BA in English Literature, an MA in Philosophy of Art, and a CELTA. Mohammad has been reading and researching on the integration of neuroscience into pedagogy, and sharing his ideas through a series of professional development sessions.
Sharing students' "Aha!" moments
I fell in love with teaching, but not in the usual way. I stumbled in, you see, following a gentle shove from my husband. My husband believed that teaching was for me and, as it turns out, he was right. I fell in love with the profession, and in particular the teacher-student relationships. It is these relationships that sustain me, and the sheer pleasure of observing a student's "Aha" moment, when their face lights up with what can only be described as joyful pride. My students teach me something new every day, and without the gentle shove I received, my world would not be so rich and rewarding. 
Justine Rofe is a passionate educator and is especially interested in designing strategies and programs that assist all students to achieve their learning goals. She is completing her Masters in Educational Neuroscience at Central Queensland University.
Sitting reflecting on my time at school, two key teachers come to mind. In fact, I have never forgotten them and often wonder if they are still alive. The two Mrs. Bs made a huge impression on my life. They focused on getting to know me, stood by me when times were hard, and always encouraged me. Over the years, they morphed from strangers into family/friends. I take this same approach with my own students today. Like my teachers who believed in me, I tell my students that I believe in them. The grades they achieve are a testimony to the importance of relationships in the classroom.
Wendy Jones has taught Psychology for 14 years and currently works at St Christopher's School, Kingdom of Bahrain. She is completing a Masters in Educational Neuroscience with Central Queensland University and is passionate about teaching—creativity, pedagogy, and neuroanatomy. "Those who teach, never cease to learn."
When I started my EdD course at the age of 45, I was elated to be able to take classes with classmates, but at the same time I was overwhelmed with all the things I have to deal with. In the middle of the coursework, I didn't think I could do it. "How can I finish this?" Then, probably knowing my self-doubt, my advisor said to me: "Japanese women know sacrifice." I realized that it's not a matter of whether I'm up to the task or not. It's a matter of whether I'm willing to give up some other things in my life to finish this. He was right.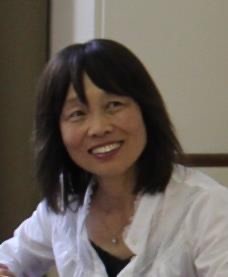 Harumi Kimura teaches at Miyagi Gakuin Women's University, Sendai, Japan. She earned her doctorate from Temple University. She researched second language listening anxiety in her doctoral study and her academic interests include learner psychology and cooperative learning. She coauthored a book with G. M. Jacobs, Cooperative Learning and Teaching (2013).
For the love of literature!
What I love most about teaching is sharing my passion for literature. I have always been an avid reader; from tender primary school years I can remember being happiest with my head inside a book. When my daughter was born, I had a wonderful excuse to read out-loud from childhood classics and May Gibbs and Mem Fox were just two authors that came alive for me again. When I began tutoring preservice teachers at university, I found that some people had not been exposed to reading and didn't actually enjoy it and some even preferred watching the movie to reading the book (horror!). Being the catalyst for change and seeing students discover the wonderful world of literature is the most marvelous feeling.
 Joanne Lee is a sessional tutor in Education in Queensland, Australia. She is currently studying for her Masters in Educational Neuroscience at Central Queensland University.
Eisler writes of teachers partnering students (2000) for a better, more ecological way of "walking our talk" and creating dialogue in which even teachers learn. When such partneristic communities emerge dialogically in education, the possibility that they can emerge in families, businesses, and communities grows as well and we all begin to reap the benefits of more egalitarian societies. NB: Educators should never assume that they are just teaching their students; they are teaching future communities, parents, politicians, and business leaders in whose hands the world will evolve and influence others in eternal ecological waves of respectful and trusting partnerships.
Eisler, R. (2000). Tomorrow's children: A blueprint for partnership education in the 21st century. Westview Press.
Tim Murphey is a part-time (semi-retired, as of 2019) professor at KUIS (RILAE), Wayo Women's University Graduate School, Nagoya University of Foreign Studies Graduate School, and Aoyama University. He has an MA in TESOL from the University of Florida, and a PhD in Applied Linguistics from the University of Neuchatel, Switzerland.