I never wanted to be a teacher. My mother was a teacher and I never wanted the occupation either of my parents had. I had always wanted to be a baseball player. Fate, however, had already taken its toll on me. At the ripe young age of seven years, I was involved in a bicycle accident that left me in a coma and partially paralyzed. My parents were told that, if I survived, I would never be able to walk again. I was in a coma for ten days—ten days of which I recall nothing. The last memory I have is stopping at the bottom of the hill where my family lived and tossing a popsicle stick in the sewer before riding off to meet friends. The next memory I have is the humiliation of being confined in a crib with a plastic roof and wearing a diaper. This is a story of perseverance conquering.
Youth for me was a luxury I never had the opportunity of fully enjoying. Teased and bullied throughout my school years for having suffered substantial brain damage and walking with a limp, I withdrew—bitter and angry at having been slighted by circumstance. My dream of playing baseball died and my life spiraled. The will to live became a struggle to survive after my dream died. I persevered, though, and—despite having been absent for a month during my hospitalization and rehabilitation—progressed from elementary to junior high school and somehow even graduated from high school. I did not proceed directly to a four-year tertiary institution of education like most in our profession.
Not knowing how to proceed in life following high school, I joined the Marin Conservation Corps–a youth diversion organization–and took community college classes at night and on Saturdays. Many of my young colleagues were high school dropouts and immigrants from other countries. Conditions for M.C.C. employment stipulated that drop-outs had to pursue General Education Diploma study and immigrants had to study English as a second language following the regular workday. The rest of us had to clean tools and wash vehicles. I volunteered instead to tutor those who had to study. I finally left the Corps after I had earned enough money to participate in a shortened, three-month semester abroad program in Paris, France with Santa Rosa Junior College. I ended up staying an additional ten months on my own after my classmates had returned to California. This period turned out to be a better educational experience for me than all my combined years of formal schooling up until that point. I had to live with the resources available to me. As I could not legally work, I had much free time between the various "under the table" paying jobs I was able to procure. I read whatever I could get and spent many Tuesdays, when students could enter free of charge, in the Louvre museum. I ended up hanging out with a group of expatriates from various countries, many of whom taught English. Unfortunately, a university degree was required for a working visa and legitimate employment. I made it my goal to return to California, use my community college credits to transfer to a four-year institution, and return to France degree in hand.
I returned to M.C.C. and worked to save for my four-year college transfer. I continued tutoring. It was during my second round with the Corps that my supervisor directed me to the education program at local Dominican College of San Rafael. Neither big nor well-known, Dominican was an accredited institution and its credit transfer requirements were not as strict as even the California State College system. I applied with references from my M.C.C. supervisor and one of the ex-pats I'd met in France. I received financial aid and was awarded a grant for an essay on community being the foundation for education. Finally, at the age many of my high school classmates were graduating from university, I was entering college.
My life changed dramatically at the age of seven. I had no intention of teaching until I joined the Marin Conservation Corps and ended up tutoring. My life and thinking as a teacher changed following my stint in France.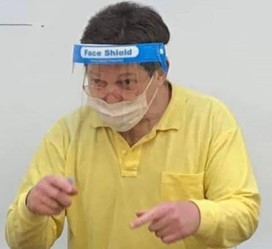 Chris Clancy hails from the San Francisco Bay Area and has been teaching in Japan since 2000. Chris possesses a Master of Education Degree in applied linguistics and the teaching of English to speakers of other languages (TESOL). He has actively participated in English language teaching organizations throughout Japan.