We all experience sadness from time to time. That is part of being human.
What is your impression of depression? Take a look at the meme below (author/artist unknown). Many people assume that people with depression experience extreme sadness. That's true, but there is more, too.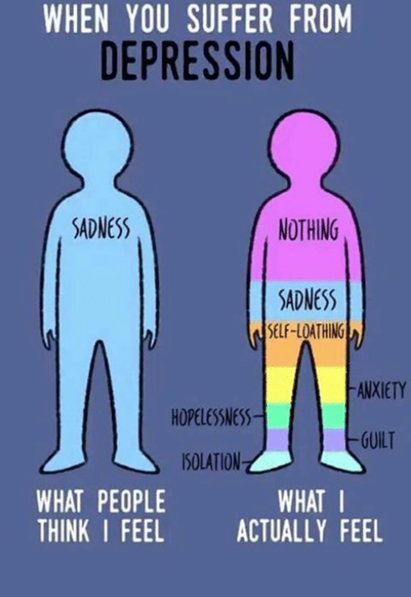 the words on the figure. Imagine feeling not only sadness but also anxiety and hopelessness. Guilt and isolation. Self-loathing: Can you imagine waking up every morning to the thoughts, "I wish I was dead"? That is how depression works. And notice the biggest part of the figure is feeling "nothing." An emptiness. A void.
I have found this meme useful in two ways. It helps me understand some of the complexity of depression. Just as important—more important, maybe—I've found it useful to share with students who are, or who I suspect are, suffering from depression.
"Notice the biggest part of the figure is feeling 'nothing.' An emptiness. A void. "
It is a way of letting them know I understand. In Japan, where I live and teach, like so many other places, depression is almost a taboo subject. I give them a copy of the meme. I ask how it compares with what they are experiencing. In addition to the meme, I give them the phone number of the counseling center on campus. The center prefers to talk to students rather than just get emails. They feel it is more effective.
Depression is a disease. It is not a weakness. It is not something you can "just shake off." It is ironic: I live in a country with great medical services that are affordable. If people are sick, they don't hesitate to see a doctor. Yet why are people so reluctant to seek professional assistance for psychological illness? I use the meme to encourage students to get help.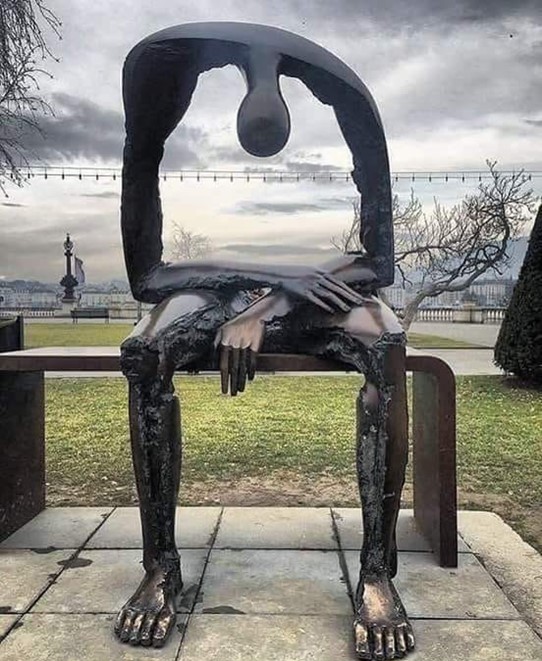 The feeling of nothingness is also reflected in the artwork on the cover of the Think Tank. The sculpture is called melancolie. It is by the Romanian-born artist Albert György, and located in Geneva, Switzerland.
We hope that these two pieces of art, the sculpture and the meme, give readers a visual experience of what some of our students are going through.
I think they also show why our trying to cheer them up is not very effective. It only addresses the downstream product, sadness, of a far more complex mix of feelings, and so can even alienate the learner more. That is why we prefer using empathy.
More on the sculpture here.



Marc Helgesen, Miyagi Gakuin Women's University, Sendai, is author of over 180 ELT books, textbooks and articles, including Pearson's English Firsthand series. He's been an invited speaker at conferences on five continents. He teaches "Positive Psychology in ELT" in Nagoya University of Foreign Studies MA TESOL Program. Check out Marc's book on Positive Psychology tasks for ELT and the activities on his websites: www.ELTandHappiness.com & http://www.helgesenhandouts.weebly.com